About Us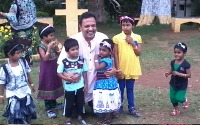 Lifeline Trust is a registered Indian Non Governmental /Child Welfare Organization (NGO), working for children in distress, for rehabilitation of childen with disabilities and for children in need of care and protection.
Lifeline Trust was started on 18th Sept, 1998, by Mr. Chezhian Ramu, to provide an alternative family care for babies and children who have no families . From the day it started, Lifeline has been working extensively in Tamil Nadu, developing various child welfare programs. Lifeline focuses on child development through Children's Rights, Education, Quality Care, Support and Protection.
Presently we work in Salem and Tiruvannamalai District in Tamil Nadu. India.
Founder's Profile
Chezhian Ramu (b.1969) was born and educated in Chennai into an orthodox family. He is the only son of his family. When he lost his parents in a road accident in 1991, he moved to Tiruvannamalai in search of peace, love and affection. As he came across abandoned children and begging children wandering in the streets of Tiruvannamalai, Chezhian compared his circumstances with that of the children's, who were starving, not only for food, but also for shelter, protection and love. This awareness made him commit to "light the life" of suffering children.
In 1994, Chezhian Ramu established organization Terre des hommes core Trust in Tiruvannamalai to work for the children in need of care and protection. For Details www.tdhcore.org and In 1998, when he came across the practice of Female infanticide and the suffering of girl children in Salem district, he committed himself to prevent and rescue the children who are in danger to be killed by their own parents. Hence he established Lifeline Trust.