Study/Training/Research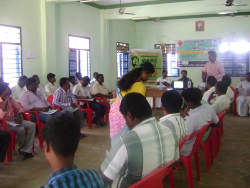 A project on protecting the Rights of children in the most excluded tribal community Jawadhu hills, Tiruvannmalai and Vellimali Villupuram District from Nov-2014 to May-2015 in co-ordination with Unicef, Chennai.

The participatory sample assessment of children homes run by NGO's was done by Lifeline Trust, Salem with support from UNICEF, Chennai in the Districts of Salem, Dharmapuri and Krishnagiri in Dec-2010 to Feb -2011. The assessment was envisaged as a platform to share the learning among the districts and also to collectively come up with recommendations for formulating effective strategies to provide for child friendly environments. The suggestions arising from this process would enable immediate and effective implementation of the necessary action towards ensuring child rights and protection.

Training on Minimum standards of care for the children in the Institutions run by NGOS. From Jan 2012 - Mar 2012.

Goal of training is to review the existing standard of care available in the children homes and impart minimum standard of care for children in the institutions run by NGOs in salem , Dharmapuri and Krishnagiri Districts.