Mdm - Thaleer Children Home - Idappadi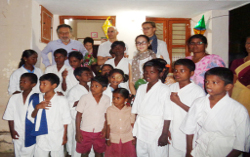 A home for HIV/AIDS infected/ neglected/ Orphan and abandoned children).
Thaleer children home was inaugurated on 12.12.2012 at No. 75B Tamil Nadu Housing Board Poolampatti road, Edapadi, Salem.
Its main objective is to provide care and protection for HIV/AIDS infected, neglected, orphan and abandoned children in Edapadi and surrounding areas.
Thaleer home is taken care of by a lovable Mother and a affectionate Cook and managed by a highly committed Project Manager – affectionately called "Akka" (elder sister) by the children, which gives a family feeling.
At present, we have 19 children at the Thaleer children home (11 Girls and 8 boys).
High lights of the Thaleer home
Separate house for Girls and boys.
Common kitchen fulfil children's tasty healthy food.
Nutritious foods are given to the children to maintain good health and also to cope- up with the disease HIV infections.
Food menu prepared by the children every week.
Individual cot with bed for the children.
Purified drinking water and hot water provision for bathing has been provided.
Regular counselling given by the Child counsellor.
ART medicines given to the children infected by HIV with help of Professional nurse daily.
Regular checkups and investigations to monitor CD4 counts.
Yoga and Karate teaching to children to be healthy.